Main content starts here, tab to start navigating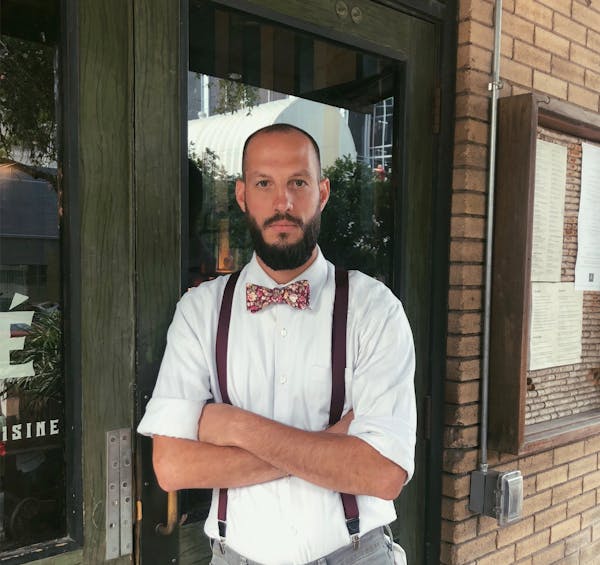 Clay Evans
Bar Manager
A long-time Texan, Péché's Bar Manager, Clay Evans, lived in both Amarillo and Dallas before arriving in Austin. He first became enamored with the capital city when he visited for a concert in 2010. The experience proved be life-changing as Evans immediately initiated plans to move to Austin upon returning from his trip.
Evans first started working in the industry as a barback in his early 20s. He built his initial experience behind the bar at numerous sushi restaurants before jumping into the fine dining world at the former French restaurant, Arro, in West Austin. He first joined the Péché team as a barback then bartender in 2015 where he worked with close friends and professional mentors including Shaun Meglen and Caer Ferguson – Péche´'s former bar manager and assistant bar manager, respectively. Evans also accredits his mother and father as highly influential personal mentors whose contrasting personalities taught him how work ethic, drive, and kindness contribute to success.
As bar manager, Evans is responsible for a multitude of tasks day-to-day. He takes the most pride in managing Péché's stellar team – all of whom bring additional creativity and ambition to the already tremendous bar program. As curious as he is studious, Evans' approach to work is grounded by product knowledge and continued education through experience. "As far as the cocktail is concerned, I believe that you need to fundamentally understand the spirit you are working with and the nuance of all the flavoring and seasoning agents…", Evans says. "A lot of this can be built through studying, but nothing works better than experience." The experience of the guest is just as important to Evans, who measures his best work not by a cocktail's impressive complexity or perfection, but by the guest's response. In Evans' own words, victory is had when "the guest reciprocates with a smile."
When he's not behind the bar, Evans spends his time at the Greenbelt enjoying some well-deserved relaxation. He enjoys beginning his mornings early with a cup of coffee and a good book or a hike.